Are your vendors covered? Is the coverage enough? Is the coverage active? How can you be sure?
Vendors and contractors without the proper insurance coverage can cost your management company, property owner, and/or investors millions.
YES, MILLIONS!
Those Certificate's of Insurance sent in the mail to properties and corporate offices turn out to be pretty important after all! A vendor without a valid COI that shows the information that is needed to transfer the risk off of you and on to them, you are assuming the risk for their actions when hiring them to perform work at your property, and it will cost you. Even if expired for just one day,  if the vendor policy is not active and an incident occurs, it's going to be hard to get the risk off your shoulders; and you probably won't. That's why monitoring vendor and contractor insurance coverage is so important and needs to be a top priority daily, but how do you possibly do it when you are at the mercy of your on-site responsibilities?
---
Property teams have daily tasks that are best practices within the multifamily industry. These tasks can range from "sparkling" vacant and model apartments, preventative maintenance inspections, grounds clean up, and turn-key operations, to name a few. Residents in and out of the office day after day make having a solid hour or two to verify insurance for vendors next to impossible. The struggle!
Insurance compliance is often an afterthought until it matters and doesn't make that to-do list every day. Often vendor insurance isn't checked every day; they come onsite, especially painting and carpet contractors, and we assume it's valid because they come often, and you are sure it's the same, right? The responsibility to manually verify the coverage is active would be needed to ensure 100% compliance every time they came to paint an apartment. That is unless you aren't the one monitoring, and you have a database that will send you an alert when a lapse of coverage exists so you know not to let the vendor begin until corrected. There is a better way.
---
Why hire a 3rd party
To effectively handle vendor insurance monitoring, transfer the responsibility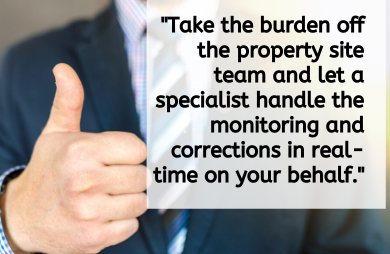 Take the burden off the property site team and let a specialist handle the monitoring and corrections in real-time on your behalf. Multiple 3rd party companies specialize in monitoring vendor insurance and will work with vendors, contractors, and their insurance companies to verify and load documents showing valid coverage on a day-to-day basis. You will likely be alerted if the coverage previously in place lapses so you can rest assured that if something happens, you're covered!
RMIS is a program that exists in the multifamily management space that handles all vendor compliance, coverage verification, and like activities for you. RMIS will invite your vendors to register with them and track all the information in a custom database. This saves the operating team from missing coverage lapses, details on stipulations, and other crucial components. Wouldn't it make more sense for the on-site team to focus on managing risk on the physical asset in real-time, daily than doing administrative checks and balances, leaving risk unnoticed?
---
Life before and after RMIS – what a transformation!
Look at the comparisons in the table below and see for yourself just how much time you get back by outsourcing this crucial step to a service like RMIS.
| | |
| --- | --- |
| WITHOUT RMIS's help YOU must: | WITH RMIS, you are relieved of managing: |
| Keep your records up to date with all vendor and contractor W-9 and COI forms. | The vendor onboarding process is initiated and managed from start to finish by RMIS. |
| Ensuring coverage is active by checking the dates on the COI. | Customer and vendor support provided through RMIS team members who are available for on-site teams to contact for any insurance needs. |
| Checking for coverage limits and types. | Daily vendor monitoring to ensure active coverage is in place, consistently. |
| Validating that the interested party is listed correctly on the COI to cover your property. | Obtains coverage documents if expired on behalf of the property management team |
| Promptly requesting all non-compliant information, manually, and entering corrections submitted from vendor insurance companies or the vendors themselves. | Verification of background screenings and proper licensure. |
| Obtain vendor COI upon expiration and re-verify coverage and other requirements. | Analysis of COI's to check: coverage limits, coverage types, additional insured clauses, Waiver of Subrogation, records policy numbers, tracks effective and expiration dates, and other items as needed by management companies. |
| Ongoing management of everything in the next column, without 3rd party support or resources to save time and prevent expensive oversights. | Upkeep of all of the documentation, processes, and certifications that are accessible on-demand and customized for your company requirements. |
If there were doubts about whether hiring a vendor insurance compliance partner to track insurance coverage for you, we hope we convinced you there is a better way! Many may have already known the extreme amount of time and effort this process takes and how important it is to do consistently, yet struggle. It's a tall order and quite an undertaking on your own, and it's unnecessary to do it alone. If you are already a Buyers Access member and want to get this service set up free, contact your Account Manager and get connected! Not familiar with Buyers Access? Click HERE and explore a whole new way to drive NOI through our robust purchasing and procurement solutions HERE or contact us at 
sales@buyersaccess.com
. If you email us or request to be connected, 90% of the work is already done, and we take care of the rest.
There. Is. A. Better. Way.